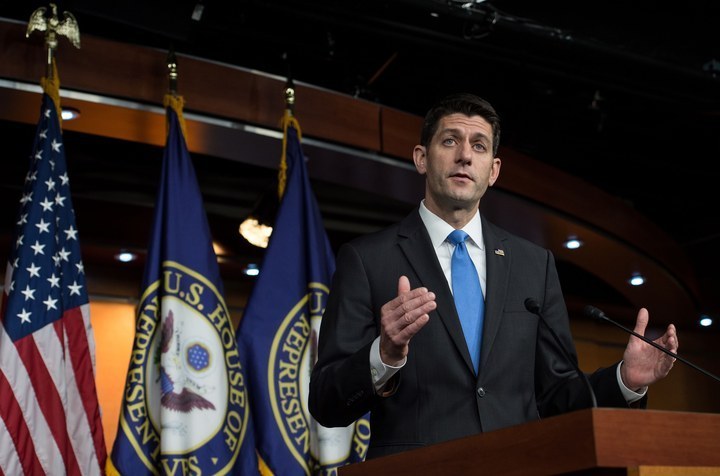 Nicholas Kamm / AFP / Getty Images
House Republicans scored a victory on Thursday, with a federal judge ruling in yet another challenge to Obamacare that the Obama administration's decision to fund a portion of the law was done so improperly.
U.S. District Court Judge Rosemary Collyer ordered "that reimbursements paid to issuers of qualified health plans for the cost-sharing reductions mandated" by the Affordable Care Act be halted until Congress passes "an appropriation for such payments." Collyer put the court's ruling on hold pending any appeal in the case.
As Collyer details in the opinion, the case centers around two provisions of the law: "Section 1401 provides tax credits to make insurance premiums more affordable, while Section 1402 reduces deductibles, co-pays, and other means of 'cost sharing' by insurers."
"The Affordable Care Act unambiguously appropriates money for Section 1401 premium tax credits but not for Section 1402 reimbursements to insurers."
The question in this challenge — brought by the House of Representatives — is whether the Obama administration can, nonetheless, provide the reimbursements under Section 1402 without any specific congressional appropriation for those reimbursements.
Collyer concluded, "It cannot," noting: "Such appropriations are an integral part of our constitutional checks and balances, insofar as they tie the Executive Branch to the Legislative Branch via purse strings."
The administration argued, as Collyer described it, that "Sections 1401 and 1402 are economically and programmatically integrated. A contrary reading of the amended appropriations statute, they contend, would yield absurd economic, fiscal, and healthcare-policy results."
Collyer, however, did not agree with the administration's view, writing, "Such an appropriation cannot be inferred, no matter how programmatically aligned the [administration] may view Sections 1401 and 1402."